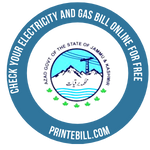 Search Your Electricity Bill
Azad Jammu & Kashmir people can check their AJK Bill of electricity from the website online for free. To check your AJKED bill online you need only the reference number. The tool is very smart and quick and generates AJK electricity bills easily with one click. Check your AJK electricity duplicate bill from anywhere in the world for free and pay it online via your credit card using the reference number.
Technology has improved our life a lot. The work we do in hours now can be done in seconds. The Government of Pakistan introduced an online system so the people of Pakistan can check and pay their electricity bills online and their connections are not disconnected due to non-payment of bills. Now you can pay your bill timely thanks to online bill checks of printebill and save your connection from disconnecting.
How to Check AJK Bill Online?
By following these simple steps customers of the AJK Electricity Department can view their bill online using their Reference No/ Customer Id. The steps are given below to check your AJK duplicate bill.
Write printebill in your browser and click on search.
Open the first result of the search and look for the AJK bill
Click the Check your bill now button in the AJK section.
On the newly opened page enter your reference number or customer ID. (Note: for rural areas check R and for the urban areas check U)
Click the search button to view your AJK electricity bill
To take the print or to download hit the print button to save it as a PDF or for printout.
What is Reference No/ Customer ID and How to get it?
When a customer applies for an electricity connection, the electricity department issue a unique number called the reference no for the connection. Reference no contains all the history of that connection. How I can get the reference no? On your monthly electricity bill, your reference no is also printed to check your connection history and bill payments.
You can check your printed reference No or Customer ID on your bill just above the name of the owner of the connection. You can see the below picture to know where it is printed. Enter this reference No to check your monthly electricity bill from printebill.com for free.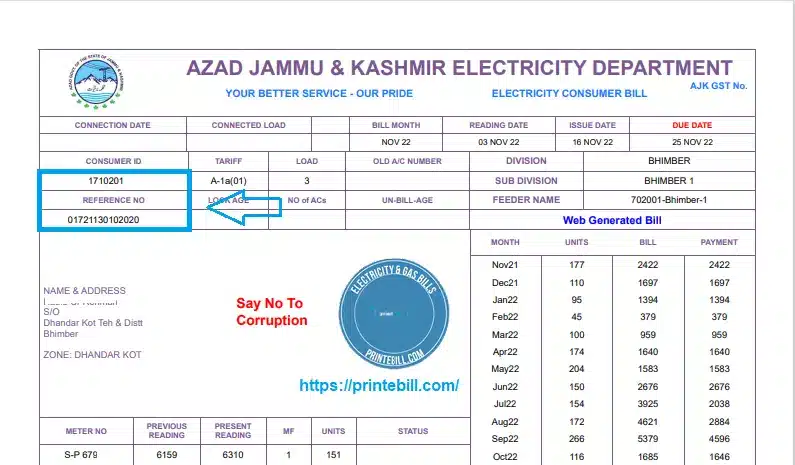 About AJKED:
Azad Jammu & Kashmir Electricity Department is responsible for the distribution, construction, operation, and maintenance of electricity in AJK. Almost 93% of AJK has availability of electricity and it has the maximum requirement of 4000 MW. The government of Pakistan is working for a separate DISCO for AJK like other parts of the Pakistan area.
AJKED buys its electricity from three power distribution companies Pesco, Iesco, and Gepco, and almost buy 70% of its electricity from PESCO. AJK is producing 9000 MW of electricity with hydro projects like Neelum-Jhelum Hydro-project and Mangla dam. AJKED has 0.6 million customers and has 02 circles and 15, operation divisions, to provide smooth electricity to the people of AJK.
AJK Electricity Bill:
AJKED charges its customer monthly on the basis of units consumed along with distribution and maintenance costs. On the due date, you have to pay your electricity bill and if you do not pay your bill on the due date you are charged for late payment. To avoid a late payment surcharge check your bill online and pay it through any channel.
Pay your AJKED Bill Online:
Now customers of AJK electricity department can pay their bills online using any bank app. Enter your AJK Bill reference number and pay your bill through bank online bank account and the bill payment amount will be deducted from your bank account. You can also pay your bill via EasyPaisa and JazzCash apps without the need of having an account in the bank.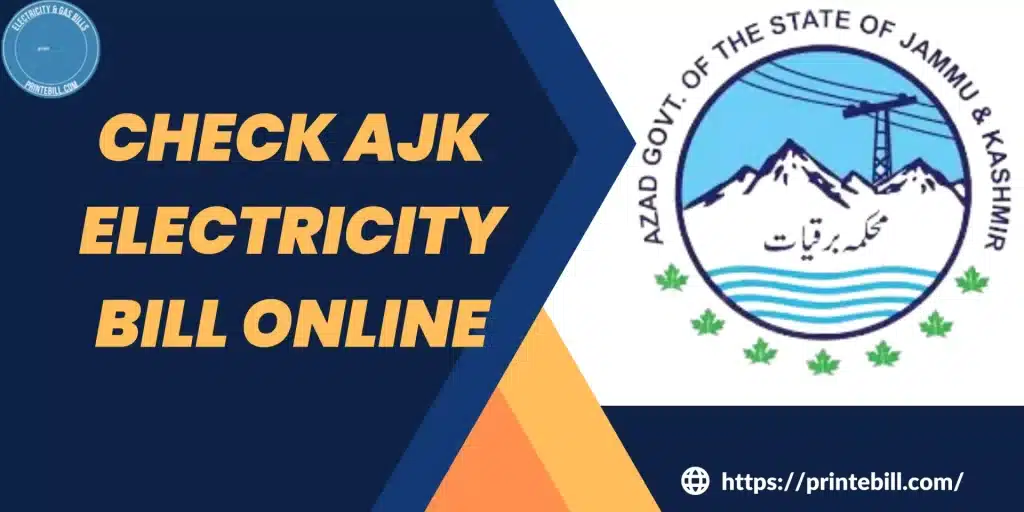 AJKED Helpline and Contact:
| | |
| --- | --- |
| Helpline | 1912 |
| Toll-Free Number | 18001807666 |
| Address | 9F5F+9RF, Muzaffarabad, Azad Jammu, and Kashmir |
FAQ:
How can I check my Azad Kashmir electricity bill online?
Visit printebill.com to check your AJK electricity department bill online. Enter your reference number to check the bill amount and the due date of the AJK bill.
How can I print my electricity bill online?
Visit the website printebill and enter your reference number to view the electricity bill. Click the print button to take the print of the electricity bill.
How do I make a bill PDF?
Download your electricity bill in PDF, just click the print button after entering your reference number and select save as PDF to download the AJK bill in PDF.