Search Your Electricity Bill
Tribal Areas Electricity Supply Company consumers can now check their electricity bills online thanks to Printebill's unique tool which makes it easier to TESCO customers to check their bills while relaxing at home. Check your Duplicate Tesco bill online simply by entering your Reference No or customer ID.
Check all the information on your bill with one click. Customers of TESCO can check their bill amount payable within the due date and after the due date and most important the due date to avoid any kind of electricity flow issue. Electricity is a basic need according to the Constitution of Pakistan and fulfills the basic needs of Tribal Areas of Pakistan Tesco is working hard to maintain its supply of electricity and improve its services. Tesco charges nominal charges to its customers to improve its electricity supply and they have introduced online billing services so customers can pay their Tesco bills on time.
What is TESCO?
TESCO stands for Tribal Area Electric Supply Company founded in 2004. It is responsible for power distribution and maintenance in tribal areas of Pakistan ex FATA and FRs. It is responsible for the smooth distribution of electricity in recently merged areas of KPK. Its service area is mostly hilly which is very difficult but Tesco staff is working hard for the uninterrupted supply of electricity to its consumers.
All the construction and maintenance of transmission lines and grid stations are the responsibility of TESCO. It works under the administrative control of PEPCO and is divided into the below-given divisions.
| | |
| --- | --- |
| Distribution Circle | 1 |
| Operation divisions | 5 |
| SS&TL Division | 1 |
| M&T Division | 1 |
| Construction Division | 1 |
How to Check TESCO Bill Online?
Check your Tesco online bill by simply entering your reference in the given tool and it will generate your bill. here are steps to view your Tesco mobile bill online.
Visit our website printebill.com and click on the TESCO Online bill and a new page will be opened.
Now enter your reference no/customer Id in the box and hit the search button.
In the new window, your Tesco online bill will be opened, and click the print button to download your duplicate electricity bill online.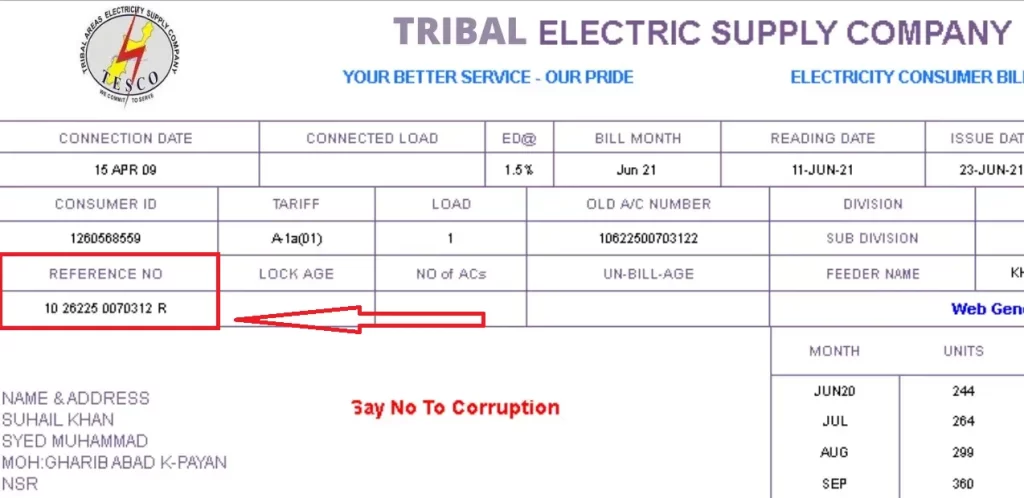 Where to Find reference No.?
There are three ways to find your Tesco electricity bill reference No. One is to check on your old bill and in the above-given image, you can see where you can it. the second one is to dial the TESCO helpline and after all the required verification they will tell you the reference No. The third one is to visit your nearest Tesco customer care center and they can tell you your TESCO Wapda bill reference no.
How to Pay Your TESCO Wapda Duplicate Bill Online?
The above part was about how to view my Tesco mobile bill online now how to pay my bill online. Now Tesco customers can also pay their bills using the bank's mobile app. Tesco consumers can pay their monthly bills using their bank accounts. Download your bank mobile app and after login goes to the utility bills section and click electricity find the Tesco electricity bill option and hit enter. Enter your reference no and it will show the amount to be paid. Hit enter and your Tesco electric bill be paid and the amount will be deducted from your bank account. you can also pay your bills via EasyPaisa and JazzCash.
TESCO Helpline and Complaint Registration Contacts:
Here are the details of the contact and address of TESCO
FAQ:
How do I find my bill reference number?
You can find your Tesco bill reference number normally on the upper left side of the bill. For your easiness picture is uploaded to get your reference number.
How can I download a PDF bill?
Enter your reference number and in the new window, your bill will show up. Hit the print button and it will show the print option. In the destination, select save as PDF.
How do I view my bill history?
In the Wapda electricity bill, in right side box shows your bill's history of one year.
Conclusion:
You are now able to download or print out your Tesco duplicate bill using your mobile. With the simple and easy-to-use tool of printebill.com. You can now generate your Electricity Web bill online with one touch. Enter your Reference No/Customer ID to view your Duplicate Wapda electric bill. Enjoy the electricity without any interruption and pay your Tesco bill on time using online channels.