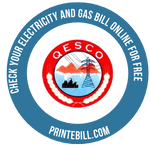 Search Your Electricity Bill
Electricity is a basic need for human beings. Governments are responsible to fulfill the basic needs of their people. QESCO is a public company trying to fulfill the basic needs of its customers and charged bills to improve its services. QESCO is also providing electricity services in the Balochistan province. Customers of QESCO can download their QESCO Bill online from our website.
QESCO is providing services in 43% area of Pakistan and it is difficult that all customers to get their bills timely. To tackle this issue we have developed a tool for QESCO customers to check QESCO online bills and avoid paying the surcharge of the bill late payment. Users can check their QESCO online bill Quetta by entering reference no.
Table of Contents
How to Check QESCO Bill Online?
Online bill QESCO can be checked by following the simple steps given below
Search printebill.com in your browser
find the QESCO Online bill and click on the check your bill now button
A new page will show on your screen and Enter your Reference No & hit the search button
A preview of the bill will show up on your screen and check all the details from there
Click the print button to download the Qesco duplicate bill pdf or take a print for payment in a bank or a shop.
By following these simple steps you can check your Qesco duplicate bill online.
What is my Reference No & How to find it?
A reference number is a unique identification number given to users at the time of a new connection. This reference no tells the power supply and distribution companies about the customer so they can track all the details & history by using reference no. Due to technological advancement tracking by name is difficult so they give every customer a unique number so they can track where the connection is installed and who is the owner of this connection.
You can find the reference number on your bill which is on the upper left side of the bill just above the owner's name and address. If you are a new customer and did not receive the bill and wanted to check online you can contact the helpline of QESCO and they will tell you the reference no. you can also visit your nearest QESCO office and find out the details of your reference no. An image of the bill is attached for your ease.
About QESCO:
Quetta Electric Supply Company shortly known as QESCO is a power supply, and distribution company formed in 1998 by dividing WAPDA Pakistan according to the act of 1984. QESCO is responsible for the smooth supply of electricity to the people of Balochistan. It's the only electricity supply company working in Balochistan province.
QESCO is the biggest power transmission company and covers almost 43% of Pakistan's area. But due to the low population, it has the least consumers compared to other power distribution companies in Pakistan. QESCO provides the electricity supply in the whole of Balochistan except the Lasbela district which is getting power from K- Electric. The following districts are getting power supply from QESCO
| | | | |
| --- | --- | --- | --- |
| Awaran | Barkhan | Bolan | Chaghi |
| Dera Bugti | Jafarabad | Jhal Magsi | Kalat |
| Kech | Kharan | Khuzdar | Kohlu |
| Lorlai | Mastung | Musa Khel | Naseerabad |
| Naushki | Panjgur | Pishin | Qilla Abdullah |
| Qilla Saifullah | Quetta | Sibbi | Sherani |
| Ziarat | Zhob | Surab | Dukki |
How to get QESCO Duplicate Bill?
This was the issue for the customers, how to check Quetta Electric Supply Company bill if it is not received or misplaced. You have to visit the Qesco office to view your Qesco electric bill. Due to the large area, it was a painful task for the users to go to the Qesco office to check their monthly bills. This issue is now resolved by the development of QESCO online billing services which enables users to check their bills online and do need to visit the office just to get a duplicate copy of the QESCO electricity bill. Download the QESCO online duplicate bill from our website and pay it online through any bank's official website.
QESCO Online Bill Payment:
To facilitate customers, QESCO is introduced an online bill payment service with the help of banks which helps users to pay their bills online. If users have an account in any bank and are using the online transfer service of the bank are eligible to pay QESCO charges online. All the banks are providing QESCO online bill payment services to their customers.
QESCO electric bills can be paid through any bank and the bill amount will be deducted from the customer account. Enter your reference no and the bill amount will show on your screen click the pay button to pay your Qesco electricity bill online. Customer can also pay their Qesco billing through EasyPaisa and JazzCash.
QESCO Complaint and Helpline:
The following are the complaint and helpline number and address for any issue regarding QESCO services. Customers can complain of power theft, overbilling, bill correction, and a power outage on the helpline.
| | |
| --- | --- |
| Helpline | 118 |
| SMS helpline | 8118 |
| Phone # | 081-9201445 |
| Address | MAIN ZARGHOON ROAD, BESIDE CCPO OFFICE, QUETTA CANTT |
FAQ:
Can I check my QESCO electric bill online using my CNIC or meter number?
No, you can check your Qesco bill online by entering your Reference No/Customer Id.
How to apply for Qesco bill correction?
For bill correction, call on the helpline or visit your nearest customer service center.
How to Pay Quetta electric bill online?
Customer can pay their Kesco bill online using any bank application or through EasyPaisa, JazzCash, UPaisa, Sadapay, and NayaPay apps.
Last Words:
I am ending the article with the assumption that you have already checked your QESCO bill online from this website using your Qesco Reference No/Customer Id and hopefully paid it online using online payment channels. If you have not paid you have taken the print to pay it in hard copy to any EasyPaisa or JazzCash retailer. The Ministry of Energy is working hard to digitalize all the processes to provide comfort to the people of Pakistan in this age of inflation and poverty, So people can work tirelessly for the betterment of the country without the worry of bill payments.