Search Your Electricity Bill
Islamabad Electric Supply Company consumers can easily check their bills by putting their 14-digit Reference No. Check your IESCO Bill Online by entering your Reference No/ Customer ID and download your duplicate bill or take a printout. Download the Islamabad electricity bill for your shop, office, and home. Check your bill amount and due date and pay it online sitting on your bed.
Get your Reference No from the old bill and check your electricity bill records online. IESCO users from Islamabad to Attock and Jehlum can check their electricity bill (Bijli Bill) online by following simple steps. You don't have to worry about the delivery of the electricity bill and check the bill online by entering your unique 14-digit reference No.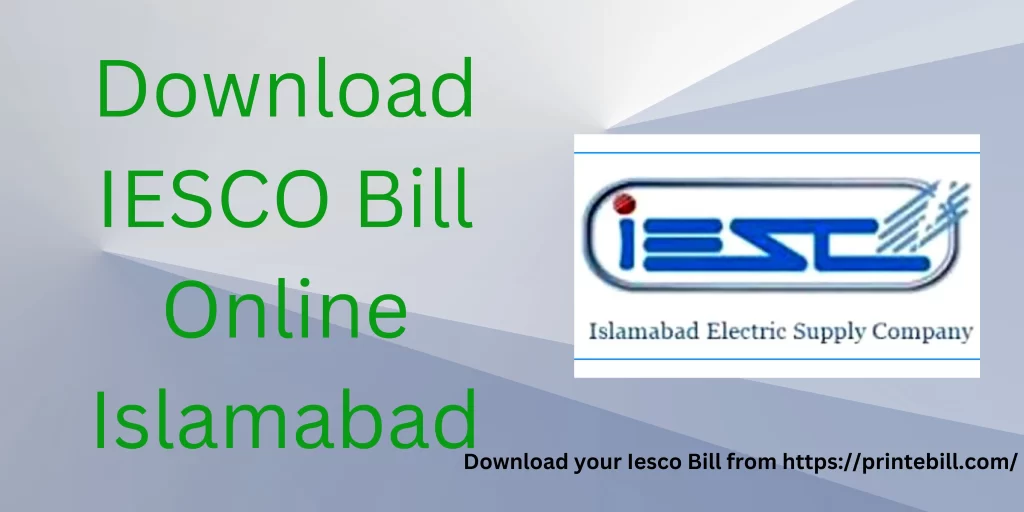 How to Check IESCO Bill Online?
Residents of the IESCO coverage area can check their latest electricity bill by following these steps;
Enter your unique 14-digit Reference No/Customer ID
Click on the search button, and your duplicate bill will pop up in the new window
Click the print button to download or take the printout
Following these simple steps, you can download your Islamabad electricity bill online.
Where can I Find Reference No/Customer ID on IESCO Billing?
You can check your Reference no or customer id on any old bill. The picture is attached for you to easily find the Reference no and customer ID on your electricity bill from IESCO Islamabad.

What is IESCO?
IESCO is Islamabad Electric Supply Company responsible for the distribution and maintenance of 6 districts. IESCO is responsible for supplying and selling electricity from Attack to Jehlum. It provides services in Islamabad, Rawalpindi, Attock, Chakwal, Jehlum, and AJK.
IESCO Jurisdiction:
There are 9 divisions of Islamabad Electric Supply Company that are responsible for the supply and maintenance of electricity in IESCO jurisdiction.
| | | |
| --- | --- | --- |
| Islamabad Division 1 | Rawalpindi Circle | Taxila Division |
| Islamabad Division 2 | Rawat Division | Gujar Khan Division |
| Barakahu Division | Satellite Town Division | Chakwal Division |
| Attock Circle | Jhelum Circle | AJK Circle |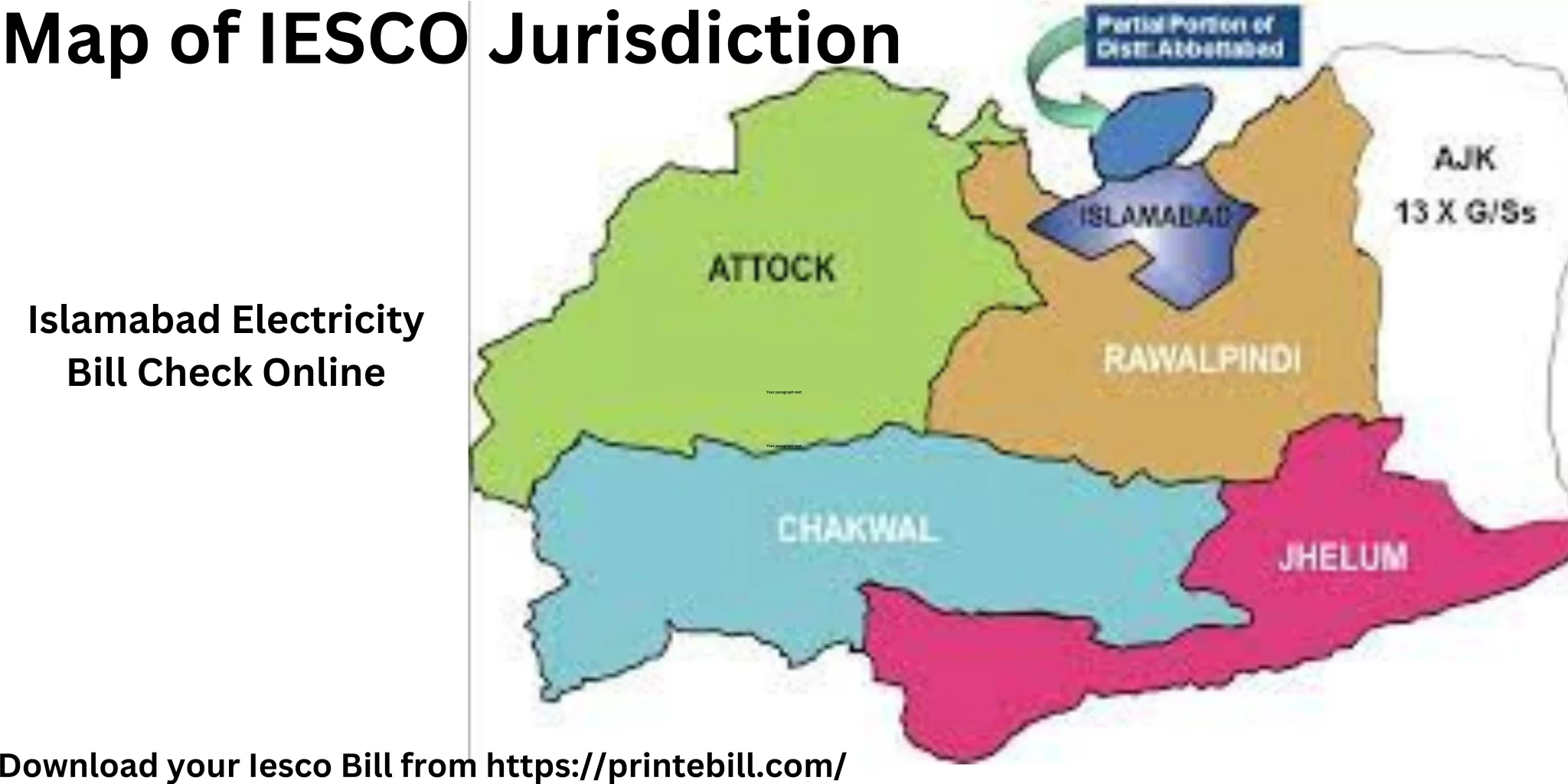 IESCO Billing Cycles:
Currently, there is two billing cycle of IESCO, from 1 to 30 of each month and the other from 16 to 15 of the month. 1st cycle's due date is 21 of every month, and the second billing cycle's due date is the 4 of each month.
IESCO Duplicate Bill Online Detail:
IESCO consumers can find all the details of their bills online. You can check the ownership details, date of connection, date of meter reading, previous and current month meter reading, unit consumed, due date, and of course, the amount to pay before and after the due date. Users of IESCO can check their meter no and the amount of taxes charged in the bill. You can check all the details of the previous monthly bills history of Wapda electricity bill online. Check the Pesco bill online.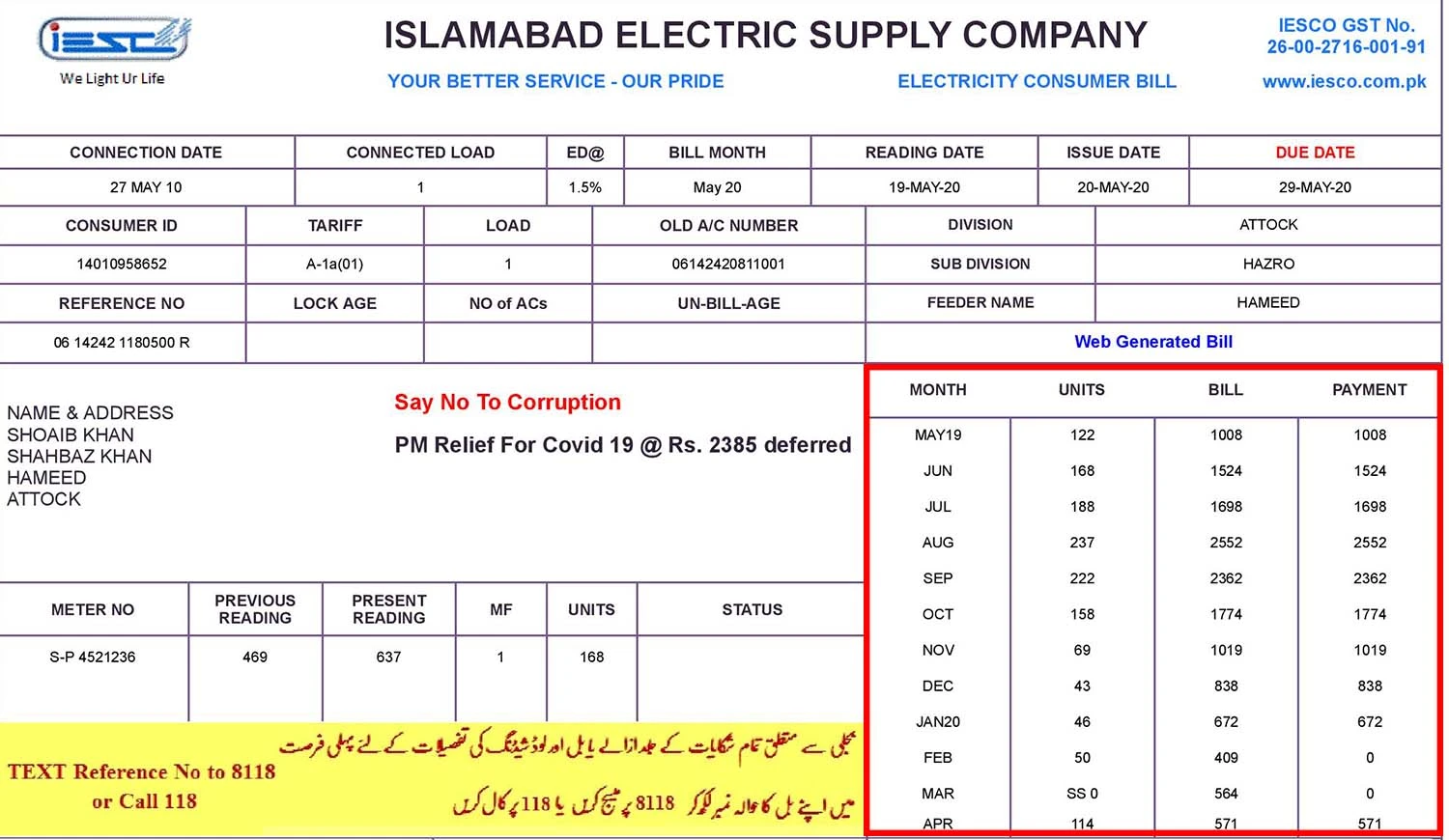 How to Pay IESCO Bills?
There are two ways to pay your IESCO bills. One is traditional, and the other is digital; you can pay with both. Traditional is to take a printout and go to any bank branch or post office, wait for hours in line, pay the bill, or go to any nearby Easypaisa, JazzCash, or Nadra designated shops to pay your electric bill. The modern way is to check Wapda online bill and pay it online using a credit card, via any bank app, or with money transactional apps like Easypaisa, Upaisa, and JazzCash. To pay your electric bill, you will only need your Reference No/Customer ID.
Receive Your IESCO Bill via Email:
Register your email address on the official IESCO website and receive your bill via email before the due date. IESCO consumers can also benefit from the great feature of SMS billing, where you will receive bills via SMS. To activate these features, you must visit the official website of IESCO. You need to enter your Reference no and mobile number to activate SMS, and for email, you will need to put email to receive bills via email.
IESCO Electricity Bill Check Online Tax Details:
The taxes of all power supply companies are the same; if you want to understand them in detail, visit the page. These are generally FPA, TR Surcharge, FC Surcharge, Quarterly Tariff Adjustment, and Deferred Amount.
IESCO Customer Service and Complaint Office Details:
IESCO consumers can register their complaints online with the great initiative of the power ministry. You can also apply for the new connection online on the official website of Islamabad Power Supply Company. Here are the contact and helpline for any complaint or suggestion to improve the services of IESCO.
| | |
| --- | --- |
| Phone | 051-9252937,9252938,9252939 |
| Fax | 051-9252927 |
| Helpline No | 118 |
| Email | iesco@iesco.com.pk |
| Address | Islamabad Electric Supply Company, IESCO Head Office St,40 Sector G-7/4 Islamabad |
FAQ:
How do I check my IESCO bill?
You can check your IESCO bill online by visiting our website https://printebill.com/. Enter your reference No. and view, download, and take printouts for free. It is the easiest way to check your Islamabad electricity bill online.
How can I check my IESCO bill by CNIC?
No, you can not check your IESCO electric bill by using your CNIC. You can only check your bill using reference No or customer id.
Can we pay the IESCO bill online?
Yes, you can pay your IESCO utility bill using any bank app. Under the section of utility bills, find IESCO and pay the bill using your reference No.
How can I check my Wapda bill online?
You can check all power distribution companies' bills using the unique 14-digit reference No/customer ID.
Final Words:
After reaching the end, I hope you have already checked your IESCO bill online and have taken the printout or maybe even paid it online. All Pakistan electricity users can check and pay their bills online by visiting our website. You can check your monthly electric bill online from our website. You can email us if you are facing any issues regarding checking bills.