Search Your Electricity Bill
GEPCO is an electric supply and maintenance public company responsible for non-stop and smooth electricity supply to its designated area. GEPCO charges its consumers based on units consumed. Sometimes for any reason, your GEPCO bill does not deliver to your address, so customers can check their bills online from anywhere in the world.
At printebill.com, you can check your Gujranwala Electric Power Company bill online for free and without any hassle. Check your bill by simply entering your 14-digit Reference No without any space in the tool to generate your electricity bill. View the amount to be paid before the due date and pay your bill online using your bank app or website while relaxing on your house couch.
Table of Contents
How to Check GEPCO Bill Online?
The problem is how can you check your electricity bill is solved. Follow these 5 simple steps to check your electricity bill online.
Visit our website printebill.com, find the GEPCO online bill, and click on the check your bill now button.
A new page will open, asking you to put your GEPCO Reference No.
After entering your Reference No. Click on the search button given below
After clicking on the search button, a new window will pop up with your bill.
Click on the print button to download as PDF or take a print as you desire.
By following these steps, you can generate your electric bill online from anywhere. Print E Bill has tried to create a simple and easy-to-use tool so everyone can generate and check their GEPCO bill online.
Also, check your Tesco bill online.
Where I can find Reference No?
GEPCO electricity consumers can find their Reference no on their bills. It is normally printed on the left side of the top section. For your ease image is attached, where you can find the Reference no, and it is circled, and the arrow is pointing toward it.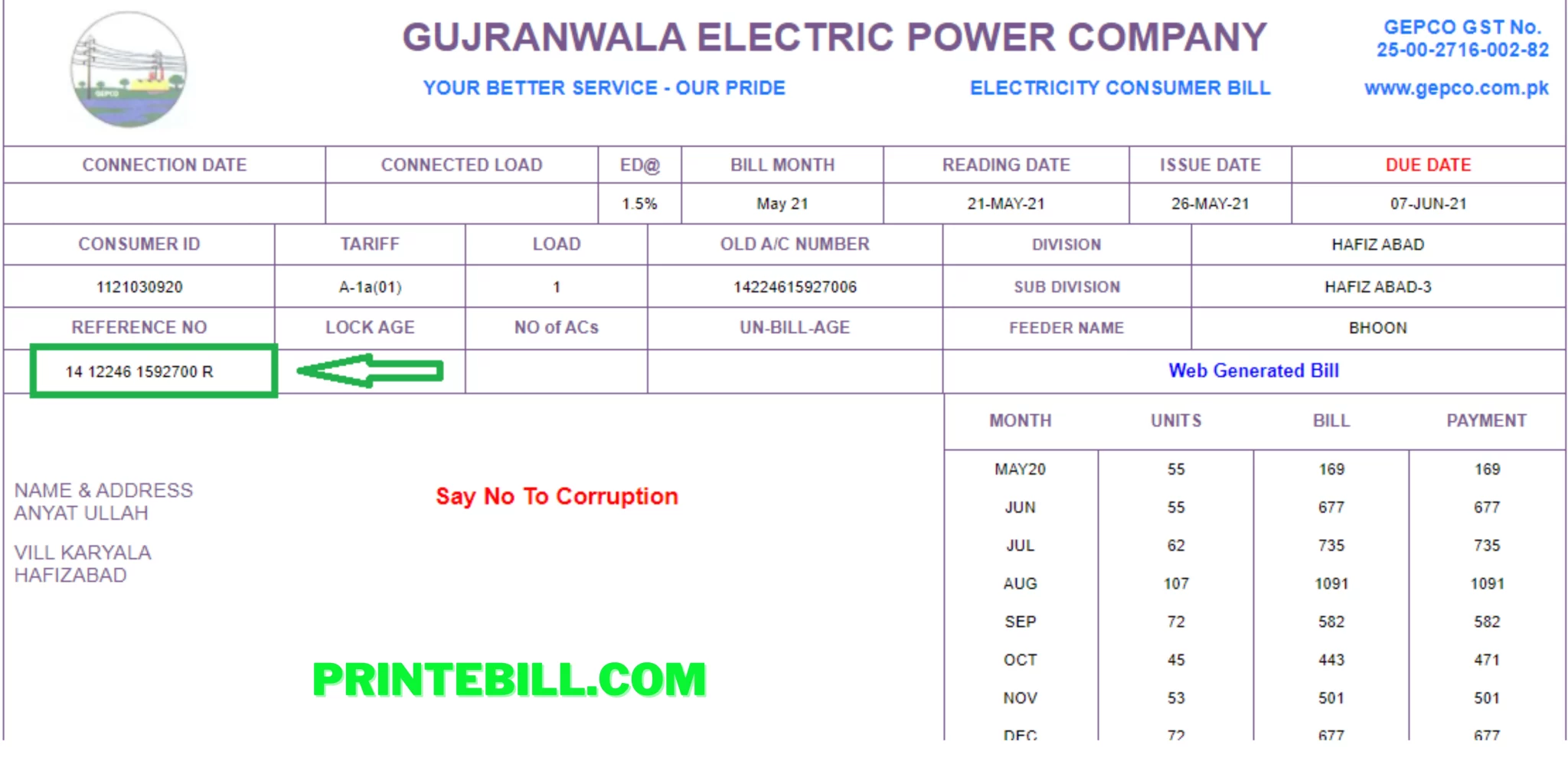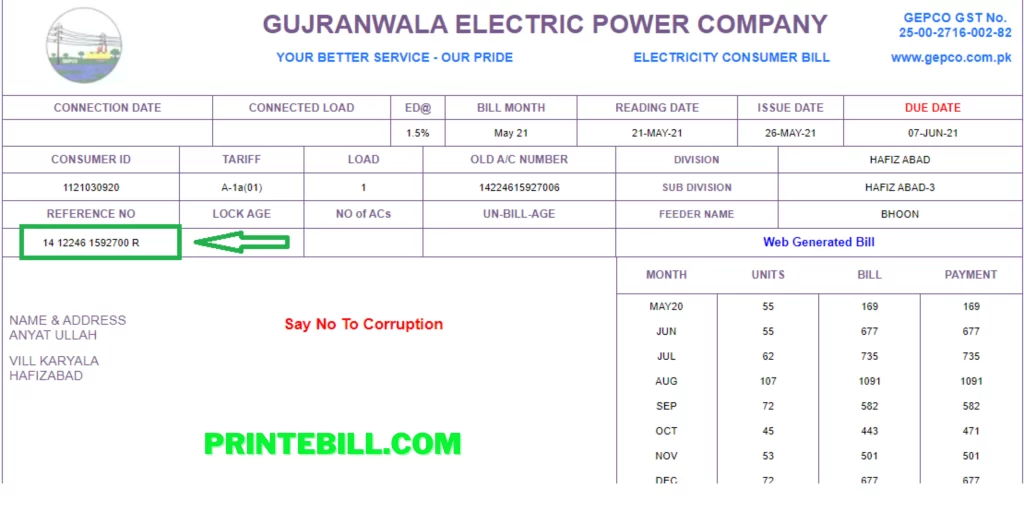 Introduction of Gujranwala Electric Power Company;
Gujranwala Electric Supply Company is a public power supply and distribution company responsible for the smooth supply of electricity to its defined boundaries. GEPCO was founded in 1998 when WAPDA was disbursed. It is working under the administrative control of PEPCO. It provides power supply services in 6 districts, namely Gujranwala, Gujrat, Hafiz Abad, Sialkot, Narowal, and Mandi Baha-ud-din.
Due to Covid-19 Pandemic, many people are now using online services, and GEPCO has launched an online complaint redressal system to resolve customer billing and power issue online. This initiative is taken by Energy Ministry on the direction of the Pakistan Prime Minister. You can even apply for a new connection at home via the official GEPCO website.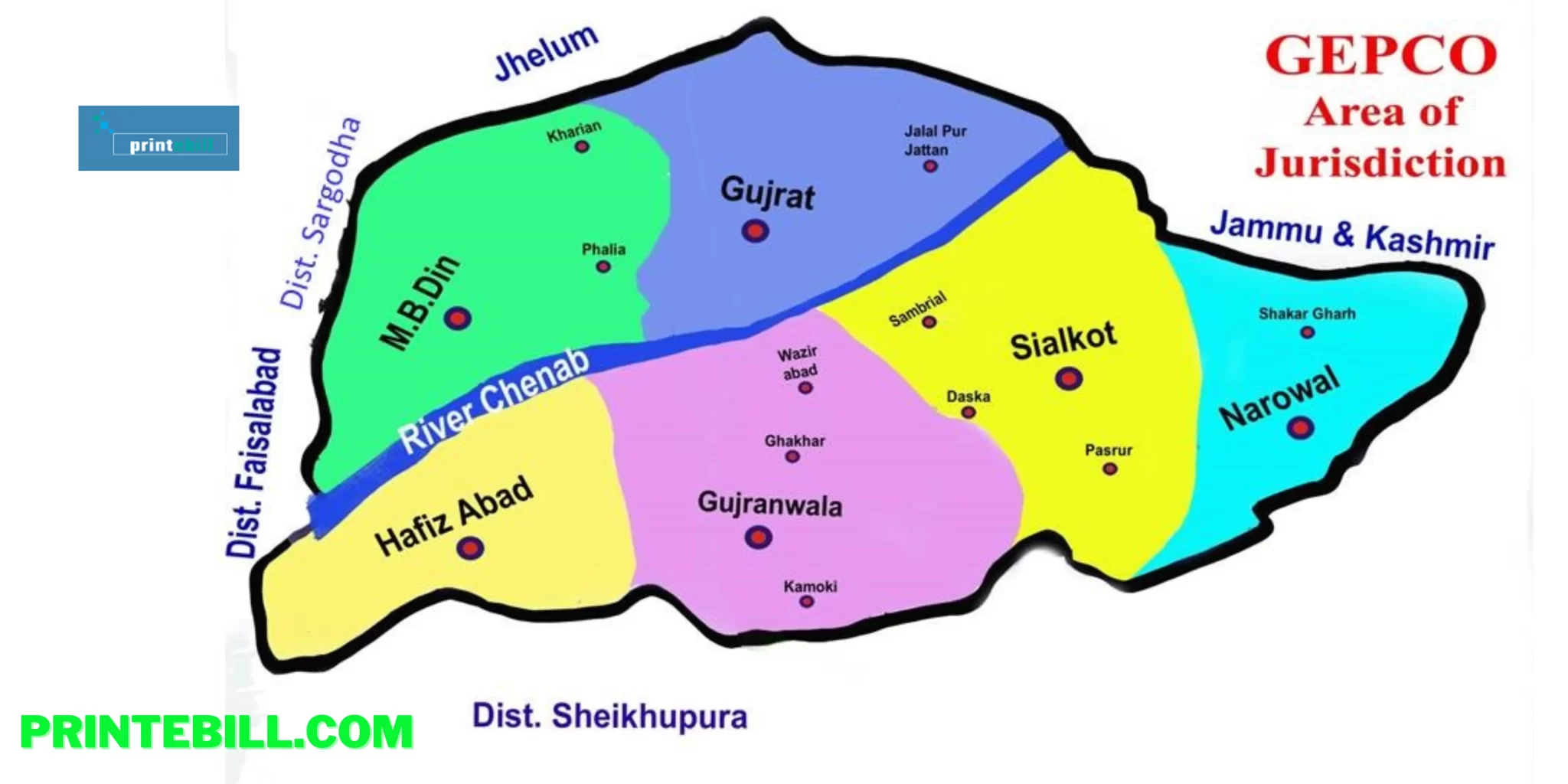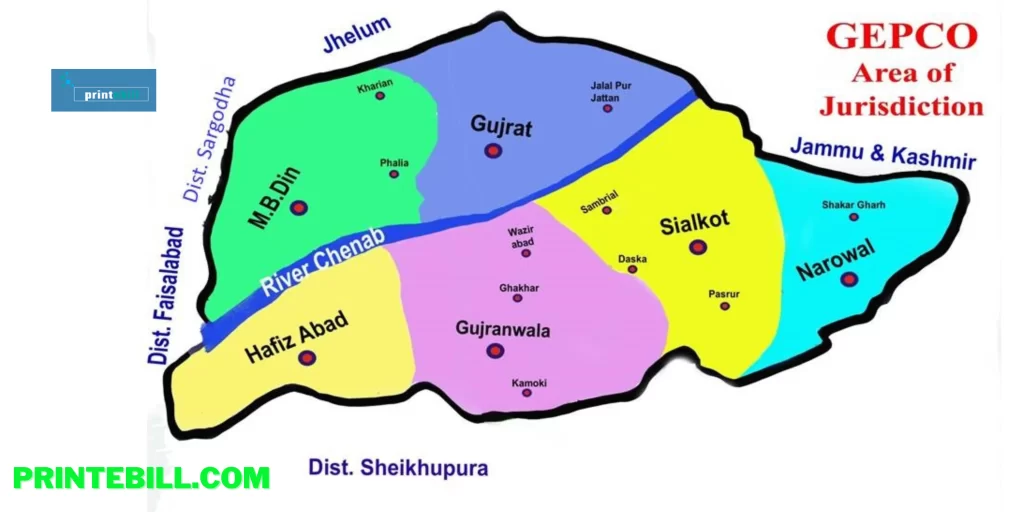 GEPCO is providing services to approximately 16.12 Million people with a coverage area of 17,206 Sq. Km. GEPCO has 3.9 Million Customers as per recent data and has a total workforce of 17501. GEPCO has 60 grid stations a total of which 59 are 132 KV and one is 66 KV. GEPCO is divided into 5 circles to improve productivity. Its circles are given below
Operation Circles
GSO Circle
GSC Circle
Construction Circle
M&T Circle
GEPCO Duplicate Bill Online:
Download your duplicate GEPCO bill and check all the information on your original bill. The owner of the electricity connection and the connection's connection address. Check your meter number, date of reading, present, and past months' readings, unit consumed, and amount of bill to be paid before and after the due date. Check the history of last year's unit consumed, bill payment history, and the current bill's due date.
The due date is very necessary to check because if you don't pay the bill on the due date, you will have to pay a surcharge, or even your electricity connection can be disconnected. Consumers of GEPCO can also activate to receive their electricity bills on their email and To. If you want to activate it, you must have to visit the official GEPCO website.
Pay Your GEPCO Bills Online?
Customers of GEPCO can pay their bills online via any bank app using the bank account. You have to download your bank app, or by visiting the official website of their bank, and by following the simple steps, you can pay your WAPDA bill online. Users of GEPCO electricity can also pay their bills through Easypaisa and JazzCash applications.
How to Check Whether Bill is Paid or Not?
There are two ways to check whether your bill is paid or not. One is to call the GEPCO helpline and ask them by giving your Reference No, they will check the detail and confirm whether your GEPCO bill is paid or not. The second way to check your bill payment is by visiting your near customer service office and they will tell you whether your bill is paid or not and how much payment is paid and how much payment is remaining.
GEPCO Customer Service and Contact:
Here are details of the GEPCO Customer Service Centre Details and contact numbers
| | |
| --- | --- |
| Helpline | 118 |
| Complaint Redressal Cell | +92-55-9200504, +92-55-9200516, +92-55-9200592 |
| CSC GEPCO HQ | 055-9200505 |
| CSC Gujrat | 053-9260290 |
| CSC Sialkot | 052-9250693-94 |
| CSC Narowal | 0542-412666 |
| Address | GEPCO HQ, 565-A, Model Town, G.T Road, Gujranwala |
FAQ:
How do I check my gepco bill?
Here are the steps to check your bill. visit the website printebill.com and find GEPCO and Click on the know your bill button. A new page will be opened and insert your Reference No to check your bill. Click the print button to print or download your bill in PDF.
How can I check my electricity bill in Pakistan?
Visit the website https://printebill.com/ and check your company bill online from anywhere in the world by entering your Reference No/Customer ID.
How can I check my utility bills online?
You can check all your utility bills for Electricity, Gas, and Phone by visiting the website of printebill.com and see your all bills in one place.
How do I download my utility bills?
Visit https://printebill.com/ and click the button of your required bill section by entering your Reference No. You can check it online and hit the print button to download or take the print of your utility bills.
Last Words:
In last you can check your GEPCO bill by entering your Reference No/Customer ID. You can take the print or download it in PDF for later use. Now you also know how to check whether your bill is paid or not. You can find all the customer service support numbers and address to register your complaint or for any query. We have also discussed how can pay your GEPCO Bill online. Download your duplicate electricity bill from our website for free. We have also discussed some frequently asked questions to quickly answer your query. keep visiting us to check your utility bills online.