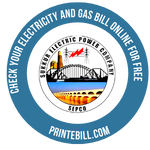 Search Your Electricity Bill
Check Sepco bill online using the remarkable and easy-to-use tool of printebill.com. Confirm your bill's last date and payable amount within the due date and download the duplicate Sepco electricity bill if needed for the record. Check your SEPCO Wapda bill by entering the Reference No/Customer ID of your bill.
Reference No or Customer ID is all you need to check the SEPCO Online bill. You can find your SEPCO Reference No or Customer ID on your previous electricity bills. If you did not have the bill and want to know your bill, you can call the helpline of SEPCO and after giving verifications, you will get your reference, No, and then you can check it online every month. The photograph is attached to check the reference no from the bill.
Table of Contents
How to Check Duplicate SEPCO Bill Online:
Check your Sepco duplicate bill using your unique Reference No/customer Id. Follow the steps to check your SEPCO electric bill online.
Search printebill.com in Google and open the first result of your search.
Find your Sepco online bill and click the check your bill now button.
A new page will be opened and enter your Reference No/Customer ID.
Your bill will be generated in a new window and click the print button to print or download the Sepco bill in pdf.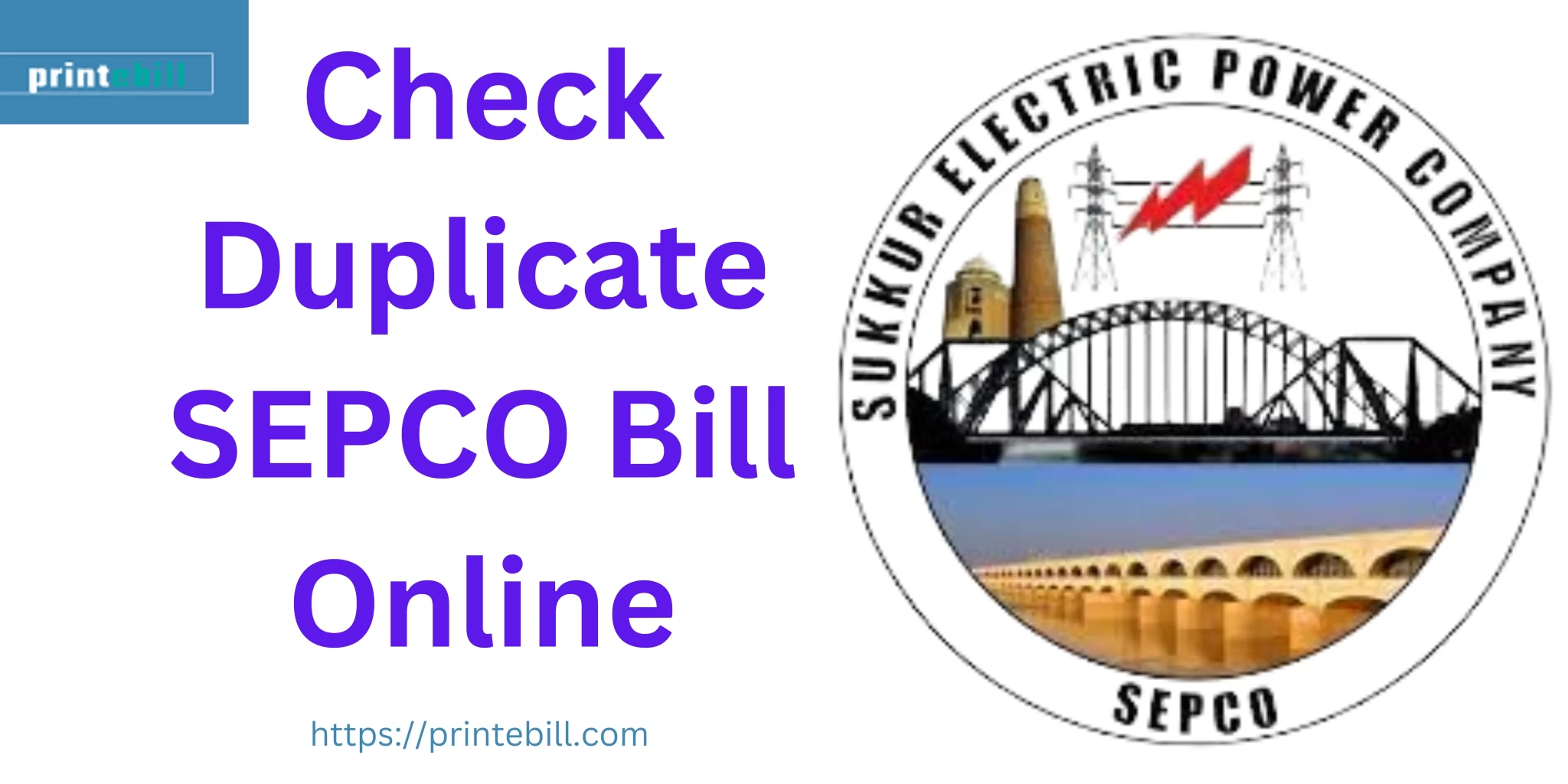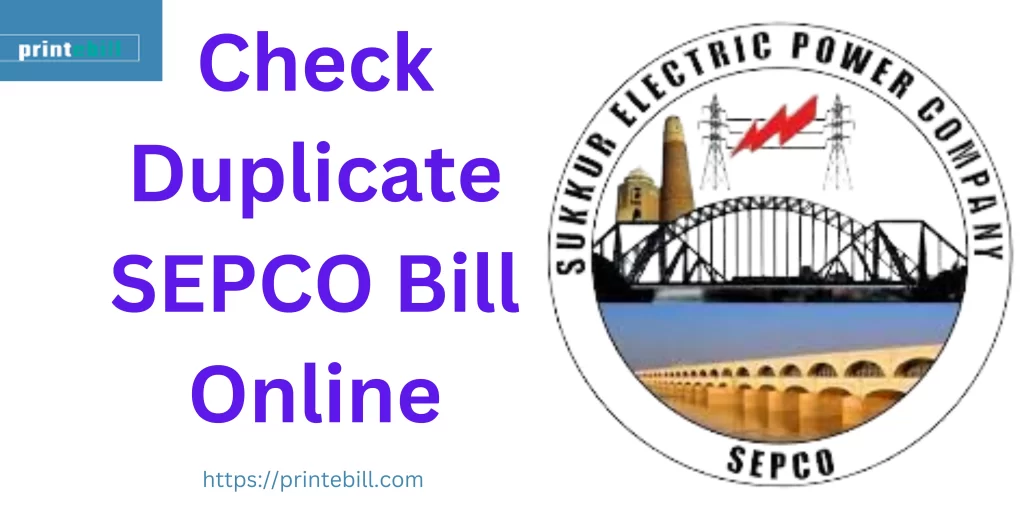 What is SEPCO?
Sukkur Electric Power Company (SEPCO) is one of the electric supply and distribution companies of Pakistan functioning under the Ministry of Energy. It is responsible for the smooth supply and distribution of electricity in its defined area. SEPCO was formed in 2010 by splitting the Hyderabad Electric Supply Company (HESCO) to provide adequate services to consumers in the area. There are three operation circles of SEPCO namely Sukkur, Dadu, and Larkana.
SEPCO Area of Services:
SEPCO is providing power distribution services in 10 districts of Sindh province. It has 4 circles 3 operations and one GSO circle. SEPCO is providing smooth electricity in an area of 56300 square kilometers and has 690472 customers. The districts that lie under the service area of Sepco are given below.
| Sukkur Division District | Larkana Division District |
| --- | --- |
| Sukkur | Larkana |
| Ghotki | Shadad Kot |
| Khairpur | Shikar Pur |
| Naushahro Feroze | Kashmore |
| Dadu | Jacobabad |
Dadu is a district in Hyderabad division but lies in Sepco service Area
Download SEPCO Duplicate Electricity Bill Online:
Now you can check and download your SEPCO duplicate bill and take a printout to pay it in any bank branch, Nadra kiosk, EasyPaisa, and JazzCash Shops. Customers can download their bill in pdf in straightforward actions at printebill.com.
Visit printebill.com and hit the Sepco bill section and it will take you to a page that shows enter your reference no/customer. Enter your reference no and preview your bill. Hit the enter button to download in PDF.
Calculate your SEPCO Sukkur Online Bill with Online Calculator:
SEPCO Electricity consumers can now calculate their bills online using the online calculator of Sukkur Electric Supply Company. Users can calculate their Sepco bills online and if find any error they can visit their nearest customer service and can adjust the amount of bills and get a new adjusted bill. SEPCO also introduced online net metering, a new connection, and a complaints system to provide users ease.
Pay SEPCO Bill Online:
Customers of SEPCO can pay their bills online using any online payment method and the amount of the bill will be deducted from the customer's account. Users of SEPCO electricity can pay their bills via any bank's official app or website or also can pay through EasyPaisa or JazzCash app. Pay your all utility bills online thanks to the initiative of the Government of Pakistan and especially the Ministry of Energy (Power Division).
SEPCO Helpline & Complaint Numbers:
SEPCO has introduced an online complaints service and made a complaints redressal cell to resolve the issues of consumers on a priority basis. Consumers of SEPCO can register their complaints regarding overbilling, power theft, bill correction, power supply, and any general issue regarding SEPCO services. You can also register your complaints at their helpline. The helpline and other contacts are given below
| HESCO Helpline Channels | Contact & Address |
| --- | --- |
| Helpline | 118 |
| SMS | 8118 |
| Phone No. | +92719310795 |
| Regional Customer Service Center | 071-9310921 |
| Head Office Address | Thermal Power Station Old Sukkur, Sukkur |
FAQ:
How do I check my Sepco bill?
Check your SEPCO electric bill using your 14-digit reference number and it will generate your bill. You can easily take a print or download it as a Pdf by hitting the print button.
What is Sepco?
Sepco stands for Sukkur Electric Supply Company which was formed in 2010 to provide better electricity services to customers.
How do I pay my Sepco bill online?
You can pay Sepco bills using any bank official app or website. Go to utility and select power and select SEPCO and enter your reference no and your bill amount will pop up. Hit the pay bill button and your bill will be paid and the bill amount will be deducted from your account. You can also pay SEPCO electricity bills online using EasyPaisa and JazzCash and the process of bill payment is the same.
How can I check my electricity bill online in Pakistan?
Visit Printebill.com and select the company you use the services and enter your bill reference number to check your electricity bill online from anywhere in the world.
Final Words:
The mystery is resolved, how to check SEPCO bill online. Simply put your reference number and generate your duplicate electricity bill in pdf with one click. Now you also know how you can pay your utility bills online. We have discussed how you can find the reference no on your SEPCO electric bill and have discussed the services provided by SEPCO online. Moreover, SEPCO Helpline and contact number are also provided for the ease of our visitors so you can find all the info about SEPCO here.